J.S.A. SAKE DIPLOMA
A newly launched certification examination for sake and shochu products
Since its foundation in 1969, the Japan Sommelier Association (J.S.A.) has been furthering better understanding of wine and other beverages and for their promotion in Japan. Today, the world surrounding washoku (Japanese food meeting the standards and essence of the dietary culture of Japan) and sake/shochu is changing as never before. UNESCO's recognition of washoku as an Intangible Cultural Heritage in 2013 has sparked an international rise in popularity and the number of Japanese restaurants are increasing in all major cities across the world. Culinary tech-niques of washoku are being incorporated by chefs overseas regardless of the cuisine and their restaurants have sake/shochu in their wine lists. For Japanese cuisine to be served to meet this increasing interest overseas and at even higher standards, we see a need for sommeliers and those in related professions to gain more knowledge and a deeper understanding of sake/shochu and to improve their sommelier skills of sake/shochu. Thus, we have launched a new certification, J.S.A. Sake Diploma, which is a qualification for sake/shochu. And, to provide an exten-sive source of information worldwide - specifically from the standpoint of a sommelier, we have compiled the J.S.A. Sake Diploma textbook in both Japanese and English. The new exam will be conducted in both Japanese and English. Together with this textbook, we will be introducing and spreading the information on a global scale.
日本国内から購入の方はこちら→
Textbook for J.S.A. SAKE DIPLOMA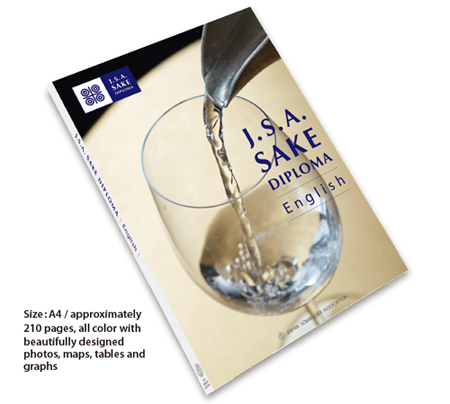 ¥4,800(JPY)+Shipping cost
3 Attractive Features
1.Sake-brewing techniques and processes—how they affect the taste
Chapter 1: What is Sake?, the main ingredients of sake — rice and water;
Chapter 2: Different Types of Sake and Their
Production Process, detailed scientific approach to techniques and process unveiling the wondrous drink.
2.Theoretical / systematic approach to sake tasting
In Chapter 4: Tasting Sake, the structure of the wine tasting process, such as Appearance, Nose, Palate and Conclusion, are applied to sake tasting.
3.Sake and food pairing theory with extensive guide for international cuisines
In Chapter 6: Sake and Food, pairing ideas (Japanese and cuisines of the world) are suggested by Shinya Tasaki (president of J.S.A. and A.S.I. Best Sommelier of the World 1995).
Thank you for applying.
We do ship internationally, and we generally use EMS.
Please inquire about the terms for shipping cost.
If a worldwide delivery is necessary, method of payment must be only via "PayPal".
We will contact you by e-mail as soon as possible.
日本国内から購入の方はこちら→
Contact
If you have any questions, please contact us.
Contact